Mitigating Outdoor Event Noise
Outdoor music and entert

ainment coordators continue to be challenged with how to maximize participant enjoyment without increasing complaints. This is particularly important when the event is located inside city limits or close noise-sensitive locations such as hospitals and nursing homes.

Music events and festivals can bring large profits into the cities that host them and entertainment for the people who want to participate. But when the energy and excitement of these events produce unwanted noise for the rest of the community, event coordinators can get strapped with heavy fines and in some cases, the event or activity may be temporarily shut down until the noise is mitigated. In fact, a plan of noise mitigation is often required before event licenses will be approved.

Read more →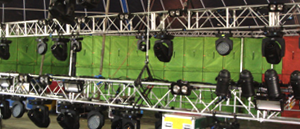 UK sound technology hailed in Aus festival success
Richie Eyles, Festival Director for the Caloundra Music Festival, one of the biggest in Australia, selected the impressive Echo Barrier sound reduction panels to help improve sound isolation for each stage area – and reduce impact on the surrounding community.
The event, which saw crowds of 20,000, resulted in minimal noise complaints as a result of the panelling, and far more sound clarity for musicians and revelers.
Mr Eyles said: "We believe the ability of Echo Barrier to absorb sound contributed to cleaner sound, reduced noise spill and ultimately provided a better experience for all from festival goers to organisers and musicians and of course our neighbours. "This control over noise gives us greater flexibility in future festival site layout."
He added: "Festival goers at each stage enjoyed their chosen musicians without disturbance from other stages. Guests, musicians, volunteers and staff attending the event were extremely impressed with the high quality sound."
Peter Wilson, Technical Director of Echo Barrier in the UK, said: "We are thrilled that Mr Eyles and his team found the technology behind our barriers to be of such a positive impact on their Festival. "We're proud of the contribution that our products bring to events like music festivals – as well as to construction sites and in high footfall areas of major cities."
Echo Barriers have already been used successfully at a range of events across the globe, including by MTV in Australia, the Eastern Electrics Festival in central London and the 2012 London Olympics.
Echo Barrier offers high tech, market leading solutions for controlling excessive noise making noise management simple, fast and highly effective. Barriers are flexible, provide exceptional acoustic performance, are easy to store, transport and fit.
They were recently recognised by the Institute of Acoustics and Noise Abatement Society at their annual awards and the barriers were recently named as Best Environmental Product at Civenex, Australia.

The commercial benefits of noise reduction are enormous, including minimising sound reflections to improve sound quality, minimising noise from nearby stages which might impact on the main performers, extension of event hours and an increased flexibility of site layout.
They can minimise noise complaints and enhance company reputation.
For more information about Echo Barrier visit www.echobarrier.com
Ends
Read more →
Festival success for Echo father and son team
Concerts that are pulled mid- song because they overrun or break sound restrictions are becoming increasingly common.
Bruce Springsteen had it happen to him at his recent gig in Hyde Park, he overran and the local council couldn't risk upsetting neighbours with noise disturbances post-11pm so they literally 'pulled the plug'.
But concert promoters are now realising that there's a solution, and the organisers of this year's Penn Festival have been quick off the mark to try it and love it.
Read more →