On a construction site, hearing yourself think is easier when your portable generator – be it on the smaller end of 50 kW up past 1,000 kW – is quiet. Here are three power levels and some of the quietest generators in each category.
A Note On Loudness
Generators make a lot of noise, but with proper engineering, a lot of that noise can be dampened. Decibels, the standard for measuring sound loudness, are logarithmic, not arithmetic. They increase by factors of 10.
Sound is a pressure wave. This means 50 decibels is 10 times more powerful, or louder, than 40 decibels. Noise of 60 decibels is 10 times louder than 50 decibels and 100 times louder than 40 decibels.
For reference, 60 decibels is normal conversation. Sitting next to a running motorcycle engine exposes you to 95 decibels, and anything over 85 decibels for a sustained time will damage your hearing, say the Centers for Disease Control.


Read: The Decibel Scale Explained
Up to 50 kW Generators
The challenge with a portable generator permanently mounted on a towing trailer is the cabinet. Generac solves this dilemma in its MMG55DF4 diesel generator with an insulated, baffled, sound-attenuated aluminum cabinet that tamps down the MMG55DF4 to 68 dbA, at the industry standard distance of 23 feet.
Generac wisely balances accessibility with noise reduction, so component parts are readily accessible behind the fully lockable doors.
50 kW to 1,000 kW Generators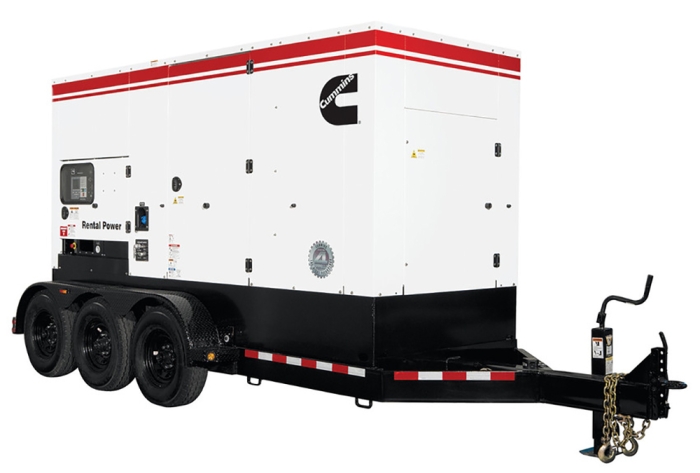 The Cummins 5275D2RE
Two offerings in the power range highlight the innovations the generator industry has achieved in recent years. Cummins offers the C275D2RE, a 275-kW trailer-mounted diesel generator that comes in at a conversation-quiet 77 dbA at 7 meters (23 feet). This versatile generator is equally suited for standby power and continuous run time.


A second, more powerful choice could be the 800-kW Cummins C800D6RG, which is housed in a standard 30-foot, insulated, sound-attenuated container tested out at Cummin's Acoustical Testing Center (ATC) in Fridley, Minnesota.
1,000 kW and Higher


Hipower makes trailer-bed mounted generators with enclosures designed to muffle sound down to as low as a tolerable 63 decibels. These diesel-powered generators often tap the legacy and prestige of Rolls-Royce diesel (MTU, the Rolls-Royce Power Systems brand, is typically paired with the generator).
By encasing the generators in sound-attenuated, standard 20-foot trailers, Hipower provides convenient, near-silent, completely portable power for construction sites, emergency repair, and standby capacity.
Hipower's HMW 1020 T6U is noise-rated at 81 dbA at a distance of 23 feet.
Reduce Generator Noise With Noise Barriers

Further noise reduction is possible on portable generators with noise barriers. Lightweight yet durable and effective, Echo Barrier is a type of portable noise barrier that reduces industrial noise sources by 10-30 dB. Check them out in action below, where an Echo Barrier enclosure reduces generator noise by 18 dB.