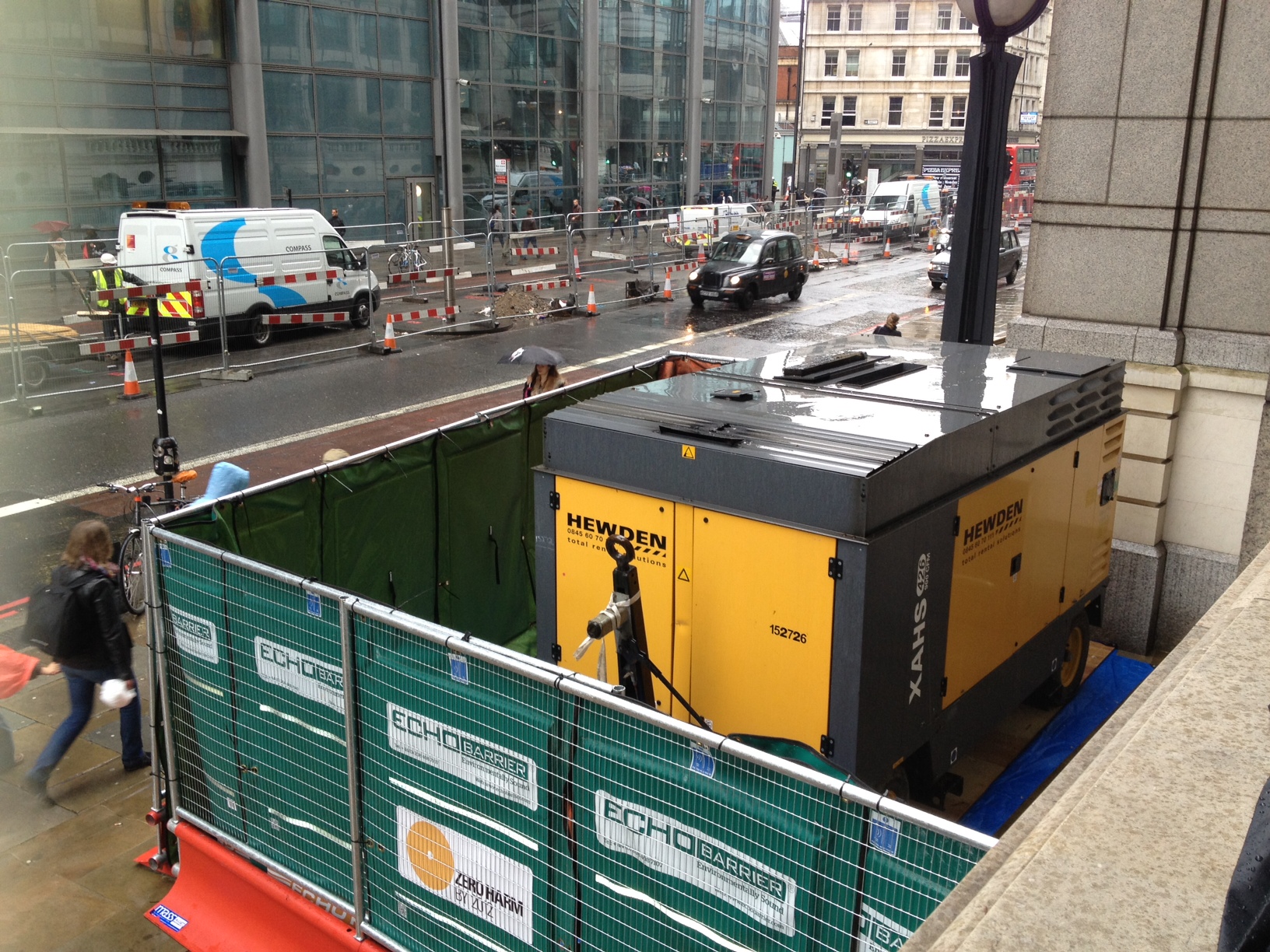 Urban and neighborhood construction projects inevitably generate considerable noise and dust pollution. The din from heavy equipment, power tools, drills, cutters, generators, and more can create excessive noise that disrupts the lives of nearby residents, annoys passersby, and can interfere with the normal activities of local businesses.
While Echo Barrier offers many high-performance noise abatement solutions for longer-duration projects, the company has also developed state-of-the-art portable noise control solutions that dampen the loud noise emanating from localized operations within a site, such as noisy compressors and pumps.
These highly effective Echo Barrier noise solutions are portable, easy to install and disassemble, and durable enough to be used over and over. Echo Barrier acoustic barriers can sustain up to 5 years of continual use, and often up to 10 years, lasting five times longer than competitor products.
These temporary barriers can be moved from one issue to the next or to other areas of the same worksite easily and quickly. Primarily designed for superior noise control, the barriers are also highly effective in limiting the spread of dust and debris around specific work areas.
The barriers may be quickly and easily fence-mounted or applied to scaffolding using our custom rapid hook system.
Echo Barrier Temporary Noise Control Solution
Vital components on nearly every job, compressors and pumps are often the loudest noise producers. Not only are these machines deafening, but they often are needed to run continually for extended periods.
The deployment of Echo Barrier's industry-leading acoustic barriers and acoustic enclosures helps protect workers and nearby residents from the relentless noise of these types of equipment.
Advantages of Echo Barrier's H9™
Designed to provide temporary yet substantial, cost-effective noise control, the Echo Barrier H9 is a state-of-the-art temporary noise control solution. H9 barriers are used and endorsed by construction contractors for general and specialized projects, small businesses, equipment rental suppliers, and government and military entities.
Each H9 acoustic barrier is durable, easy to store, transport, and install, and weighs just over 13 lbs. The panels can be linked vertically or laterally to create a wall or curtain and may be doubled up for a thicker barrier to increase noise attenuation even further.
H9 acoustic barriers are lightweight and can be deployed by one person. They can be installed in various configurations and attachable to almost any structure. The temporary barriers provide long-lasting noise control for any work site and maximum protection for site workers, surrounding neighborhoods, and businesses.
While the Echo Barrier acoustic barriers rate extremely high in noise absorption, they completely repel moisture from any source. They repel rain and high water and can be power-washed to preserve their appearance without deterioration in all climates.
How Effective are the H9 Temporary Noise Barriers?
Echo Barrier's H9 temporary noise barriers are made of recycled and sustainable materials. Acoustic testing results show attenuation ratings up to 27 dB and 100% noise absorption at 5Khz. The barriers have been tested at 43dB and offer at least 27dB in real-life conditions.
These sustainable, award-winning barriers are composed of high-tech composite materials and are fire resistant to ASTM E84 and water resistant to IPX6/IPX9. They will absorb noise up to 100% at specific frequencies while helping to keep the dirt and dust from certain operations from spreading throughout the work site and surrounding neighborhood.
Commitment to Sustainability
Echo Barrier's noise control solutions have earned the company a 5-star rating for its carbon footprint. The company holds ISO 14001 Environmental Management Standard, along with ISO 9001 and ISO 45001.
Importantly, contractors also benefit from Echo Barrier's negotiable buy-back policy, enabling clients to return heavily used items for recycling.
Some of the many reasons for receiving this recognition for their commitment to environmental responsibility include:
Significant reduction in noise pollution that is considered both an ecological nuisance and a human health hazard by the World Health Organization

Use of recycled materials to produce their industry-leading noise management systems

Reduction of waste with Echo Barrier's Buy-Back and recycle program for barriers that have reached the end of their useful life
Learn More About Echo Barrier Solutions
Echo Barrier offers a complete line of durable industry-leading noise management solutions for long- or short-term construction projects requiring noise attenuation, dust containment, and site security.
To learn more about the many benefits of their products, visit the Echo Barrier products page https://echobarrier.com/noise-reduction-barriers