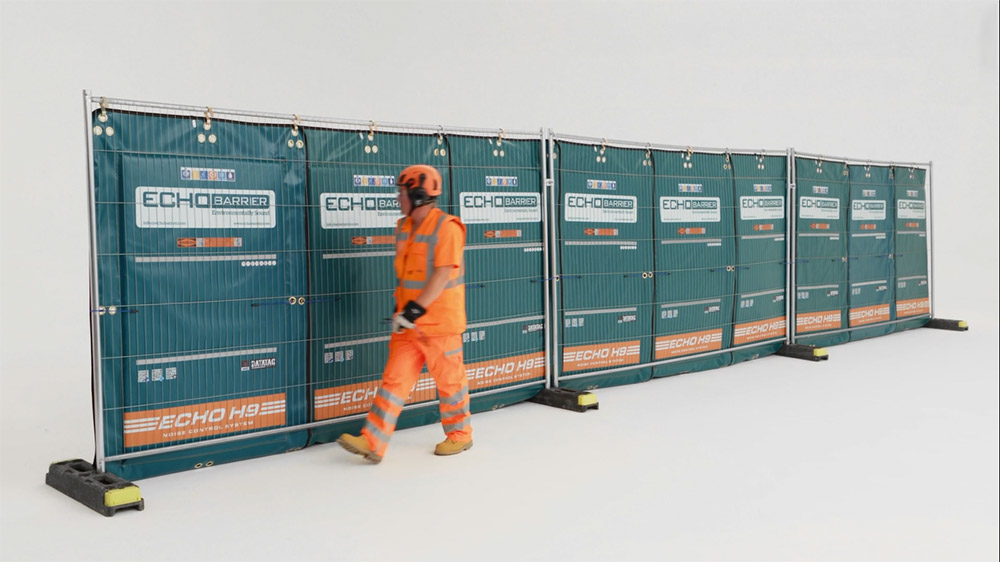 Full-service equipment rental companies that supply machinery, tools, and accessories for construction projects, outdoor concert events, and other excessively noisy situations should offer the highest quality, most durable sound abatement barriers. Loud, sustained noise generation has not only proven to be a serious health hazard to everyone in the vicinity, but excessive noise output is also a serious legal compliance issue.
Top performing equipment rental companies offer noise abatement barriers as part of their menu of equipment and accessories to reduce both the health and the legal risks that certain projects and events produce.
Excessive noise is an unfortunate but typical result of almost all construction projects and specific noise-generating machinery like generators and pumps.
To avoid severe legal penalties, minimize the environmental impact of excessive noise output and to maintain a positive public image, project managers must deploy noise abatement barriers and strategies that minimize the adverse effects on the crew, visitors, local residents and passers by.
While construction projects tend to last longer, musical concerts, festivals, and sporting events are also appropriate venues for effective noise reduction and prime customers of equipment rental agencies.
And as the harmful effects of continual thunderous noise become more broadly recognized, legislators and enforcement are cracking down on violators who do not pay sufficient attention to the impact on their surroundings.
For equipment rental companies, including high-quality noise-attenuating acoustical barriers from Echo Barrier® in their portfolio of offerings is both profitable and practical.
Impact of Noise Pollution
Besides the potential legal problems surrounding excessive noise pollution, contractors, construction site managers, and event planners are becoming more aware of the health risks they might trigger with uncontrolled noise emissions.
According to a MedicalNewsToday article, excessive noise causes humans to suffer hearing loss, increased stress levels, and sleep disturbance. While humans are always concerned with air and water pollution, noise pollution has become a recognized hazard that, when not controllable, creates an intense impact on mental and physical health.
Besides impacting stress levels and sleep, excessive, non-controllable noise can result in conditions like tinnitus or "ringing in the ears, abnormal loudness perceptions, and paracusis or distorted hearing.
According to a study cited in the same article, children can be even more susceptible to the problems caused by loud ambient noises, affecting concentration, communication and speech development, and cognitive performance.
Broadening Rental Portfolio Offerings
By offering easy-to-install, high-quality sound barriers for long-term construction projects or short-term, localized jobs and events, equipment rental enterprises can provide a "one-stop shopping" experience that offers everything the client will need. Clients will not need to look elsewhere for their noise abatement materials.
Echo Barrier H-Series™ and Cutting Station
Echo Barrier offers world-class temporary acoustic barriers for large-scale projects and events as well as smaller single-use enclosures.
The H-Series acoustical barriers reduce sound by up to 99% and are lightweight and portable. These are also fire-resistant to ASTM E84 standards/BS7837:1996. Fitted onto existing or temporary fencing or infrastructure, they are adaptable to any environment and are easy to store, due to each panel's flat profile.
Echo Barrier's portable workstations are easy-to-assemble and can dramatically reduce noise levels created by power saws, grinders, generators, and other singularly noisy equipment.
Enhancing Rental ROI
The estimated break-even point for the Echo Barrier products is approximately 20 to 25 weeks of equipment rental use, depending on the rental rates and other factors. Beyond that period, these adaptable, lightweight, and long-lasting sound absorption barriers typically last around five years of continual use with proper storage, handling, and installation. These are substantial enough to be cleaned by power washing, maintaining their like-new appearance for the next rental client.
Also, as a further profit enhancement for the equipment rental company, Echo Barrier will buy back for recycling those well-used barriers that have reached the end of their rental life. The buy-back program and subsequent recycling contribute to supporting a healthy environment and Echo Barrier's mission to support sustainability in all activities.
Echo Barrier Products are Versatile and Adaptable
Echo Barrier sound control barriers may be used at any excessively loud venue to minimize the repercussions of noise control. The award-winning products, when properly installed, have been tested to reduce sound levels at work sites and even outdoor concerts by up to 40dB.
Easy to install, Echo Barrier systems can be configured and mounted for any application using the included one-of-a-kind fitting kit consisting of special hooks and elastic ties to attach to standard fencing and scaffolding.
Echo Barriers systems are currently used by many equipment rental companies throughout the country. Check with one of the Echo Barrier professionals to discuss the best choice of products for each application.