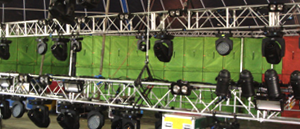 Outdoor music and entert

ainment coordators continue to be challenged with how to maximize participant enjoyment without increasing complaints. This is particularly important when the event is located inside city limits or close noise-sensitive locations such as hospitals and nursing homes.

Music events and festivals can bring large profits into the cities that host them and entertainment for the people who want to participate. But when the energy and excitement of these events produce unwanted noise for the rest of the community, event coordinators can get strapped with heavy fines and in some cases, the event or activity may be temporarily shut down until the noise is mitigated. In fact, a plan of noise mitigation is often required before event licenses will be approved.

Keeping the event running and maintaining high sound quality without risking noise ordinance violations becomes a crucial balancing act for event coordinators and consultants.

Fortunately, there are ways to mitigate the noise in unwanted areas while enhancing the overall experience for event attendees. Some outdoor event coordinators rely on acoustic barriers to provide cost-effective temporary noise control solutions. In addition to dramatically reducing noise complaints, these solutions can direct the desired sound while minimizing noise bleed-through and crossover from nearby stages or areas.

In some cases, these solutions may significantly reduce the noise to a level that allows for extended event hours in protected areas.

Temporary acoustic barriers are easy to install, provide flexibility for the event layout, and are durable in all types of weather. Some acoustic barriers can also be branded for additional event exposure.

Solutions for Mitigating Noise at Music Events

High noise levels are a welcomed expectation for attendees of live music events, but organizers must be proactive in mitigating the sound the rest of the community may not desire. Noise monitoring during a live event is often required to obtain the event license.

Building a temporary wall with portable acoustic barriers can ensure that the noise levels maintain high quality within the venue, while preventing the noise from reaching beyond the event grounds. Sound can be directed specifically toward the audience, which enhances the quality and reduces the nuisance of those outside the venue.

Temporary walls built with acoustic barriers are flexible in height and width so they can be customized to fit the area surrounding the stage. They are durable in all types of weather and easy to install by mounting onto scaffolding or rigging

Mitigating Noise from Generators and Power Equipment at Outdoor Events and Festivals

Small generators and power units are often required for outdoor events, especially when live entertainment is the headliner. Blocking out the annoying rumblings of the equipment becomes a necessity. Noise reducing acoustic enclosures are portable and can be configured as a screen or they can wrap entirely around the equipment to provide exceptional noise absorption and reduction. These enclosures are lightweight with easy-to-install Velcro attachments and can reduce generator noise by as much as 25 dB.

Temporary acoustic fencing provides easy-to-install noise barriers to separate entertainment stages from food and craft areas. Temporary fences can easily be constructed by hanging acoustic barriers on a fence or scaffolding, and they can be moved, as needed, for quick layout adjustments. These temporary fences also serve as security barriers to separate areas that are free to participants from those which require the purchase of a ticket.

Echo Barrier is committed to protecting workers and communities from noise pollution. Our portable acoustic barriers and acoustic enclosures are made using the most advanced acoustic technology and the highest quality materials.
‍
Our products are lightweight for easy movement and storage, and certified waterproof, cold-resistant, and fire-resistant. They are easy to deploy and fit into any event venue.