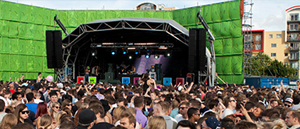 Acoustic barriers are perfect for mitigating noise at major construction sites and on demolition projects. They are also an effective solution for large music events and festivals. However, in some cases, one row of the 12-foot sound-reducing panels is not tall enough to produce the desired results. That's why Echo Barriers are designed to be easily installed vertically in an overlapping system that can create a wall or curtain of barriers, assuming no external loads, up to 20 times the height of one panel. The structure must be stable enough to support the extra wind and weight loads, but the vertical installation allows contractors to construct tall acoustic barrier curtains that can provide flexibility for noise control.
Event organizers can mitigate the noise levels by building large walls of sophisticated acoustic noise-reducing barriers that can be as high as needed as long as the barriers are attached to the support structure as well as each other and all loading considerations are accounted for. These curtains of advanced technology panels interlinked to one another can provide up to 26db reduction in the field or more in controlled scenarios, at certain frequencies the barriers can absorb more than 90% of excess noise.
At a large event venue, the barriers can build a soundscape to enhance the experience for ticket holders without disturbing nearby neighborhood residents. Operators on construction sites can use them as building dividers to allow a renovation to be completed while allowing the building to remain in use. Demolition experts can cover an entire building with acoustic barriers to allow the controlled weakening of a building to safely take place in residential areas with greatly-reduced noise levels.
Noise-reducing panels from Echo Barrier are designed to be fitted vertically from one another to form an interlocking noise curtain, allowing for their use in larger construction or renovation projects, on demolition sites, and for large loud events. Echo Barriers are attached to the scaffolding by rigging hooks and then subsequently connecting them to one another using specially-designed orange bolts. The bolts ensure the correct amount of overlapping to produce the highest quality of performance. For taller structures, the barriers are also attached to the scaffolding structure or rigging to cope with wind loading.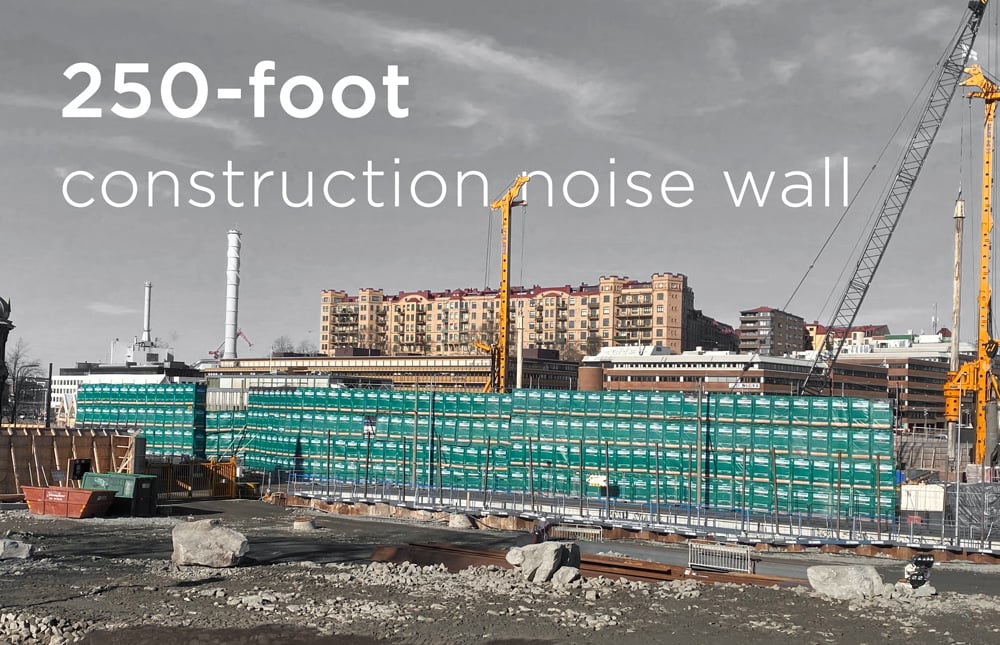 How to Install Echo Barriers Vertically
Compared with other noise-reducing technologies, Echo Barrier's temporary acoustic barriers are lightweight, meaning they can be installed quickly and with only a few people—even for the large vertical wall installations. The lightweight design includes ergonomic installation components and well-designed fixings and accessories that make assembly and disassembly a simple process.
Despite their effectiveness Echo Barrier's acoustic panels weigh only 12 pounds each, they are designed for easy transportation and can be quickly moved from different areas throughout a festival, large event or construction site. They can fit easily onto an existing or portable infrastructure, allowing the technology to reduce noise nuisance complaints that often come with large festivals and music events or to follow work noise as it moves though a site.
To build a huge vertical wall or free-hanging noise curtain of barriers, simply attach them to the existing scaffolding or fencing using the specially-designed hooks. For larger installations, cable ties secured to the structure provide additional stability. Then connect them to one another with the purposefully-engineered orange bolts and cable ties.
It is critical to ensure that wind and weight loading on the structure is taken into account when installing noise barriers vertically. Because Echo Barriers are made from lightweight materials, they can create the lightest sound curtain available. It is also crucial to ensure the structure on which the barriers are mounted can handle the additional weight of the load.
For applications where additional noise reduction is required, echo barriers can be double layered, providing extra mass and higher acoustic performance. To correctly double layer, be sure to stagger the second layer of barriers over the initial layer, ensuring that they overlap neatly. To achieve this, secure the sides of the new barriers in the center eyelets of the original barriers always considering the addition load this imparts on the structure.
When installing barriers on extremely tall structures, up to 20 barriers can be hung vertically on a single structure before the weight capacity of the barriers is reached. This assumes no external loads are present. The standard scaffolding height between sections is 12 feet, which by design is the exact length of the Echo Barrier panels. This makes them a perfect fit for scaffolding installation by attaching the barriers to the scaffold or rigging. The height of the wall is only limited by the weight of the barriers on the structure and any external loading factors.
Rapid Installation of Vertical Noise Barrier Curtains
A complete fitting kit is also available to be used with fencing or scaffolding. Purposefully designed, each kit includes two elastic ties and a hook. One kit is required for each barrier, and the corner of one barrier hangs on the hook of its adjoining barrier. Use the vertical fitting kit to securely hang barrier-to-barrier in order to create a vertical screen.
Barriers can be rapidly secured in place with no leakage by using specially-designed elastic ties. If the site is vulnerable to theft after hours, panels can be secured by using a special anti-theft cable. Simply weave the vinyl-covered multi-strand, anti-theft cable through the eyes of each barrier and the fencing and secure with a padlock through each looped end.
It is also recommended to use double-palm safety gloves to protect workers' hands during installation of acoustic barriers. Echo Barrier strongly recommends observing all safety precautions when installing acoustic barriers, especially when building a large sound-reducing wall structure.
Refer to the easy-to-use videos and installation guides for all Echo Barrier products.