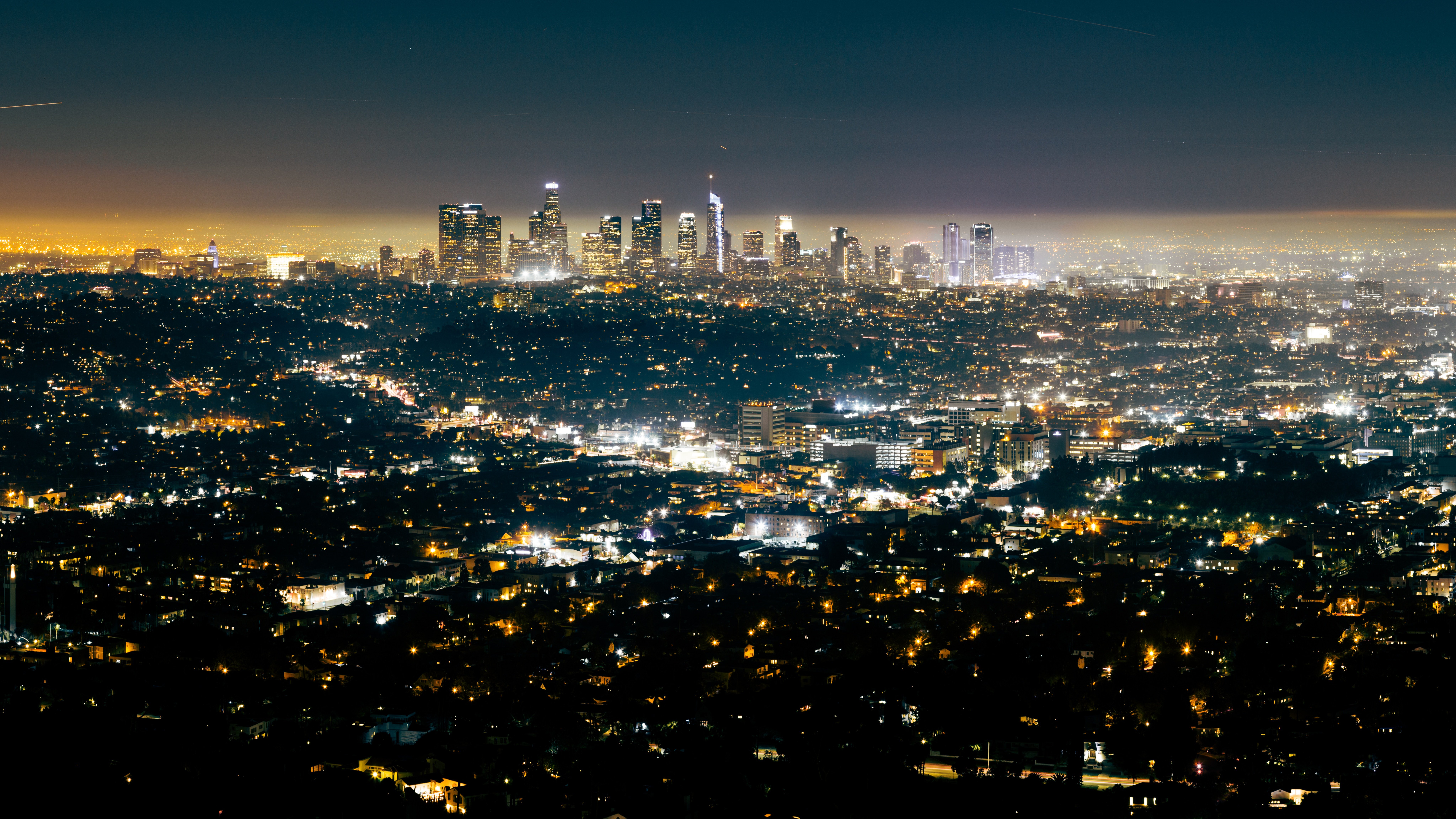 When looking to find a new apartment, house, or even city to live in, noise is something pretty high up on most people's priority lists for consideration. Do the neighbors like to party? Is there a lot of urban development and construction in the area? Is there a dumpster right under my window that a garbage truck will come and empty twice a week at 7 am?



We don't like to be disturbed, but when a home inspection only allows a half-hour window to make an assessment of a space and a neighborhood in which you could end up living for years, it's almost impossible to know how the surrounding environmental noise will affect you and your lifestyle.



This interactive heat map provided by the U.S. Department Of Transportation gives an insightful visualization of how road and aviation noise affects the landscape across the entire country. With this tool handy, we can make better-informed decisions about our lifestyles and where we live.



So what does noise in Los Angeles look like? Being a larger city, it is naturally pretty noisy, as many residents can attest to. But as you'll see, between all the airports and zig-zagging highways, you can find pockets of quieter neighborhoods.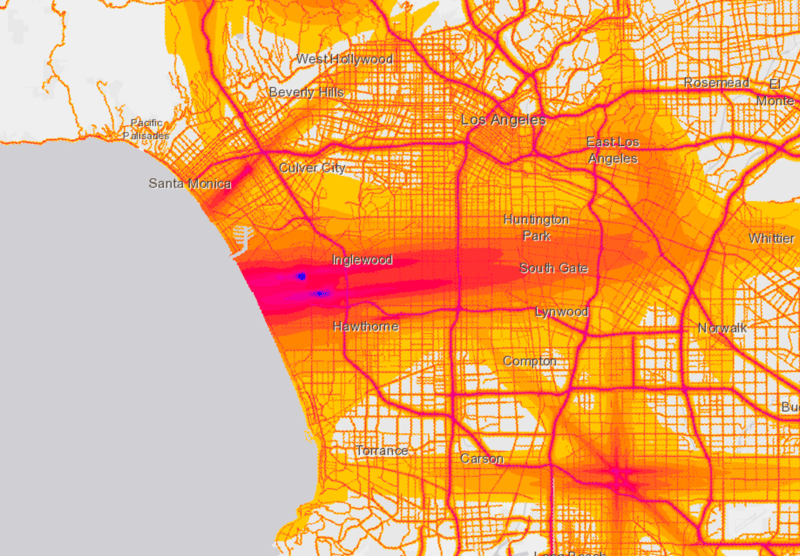 It's a given that L.A. is no haven of serenity, boasting over 18 million citizens in the Greater Los Angeles metropolitan area. Even so, it's not unreasonable to actively seek quieter zones.


By far the biggest sore thumb on the map is the noise caused by air traffic coming in and out of LAX (Los Angeles International Airport). To ease stress on eastern communities like Inglewood and beyond, LAX implements a procedure called "Over-Ocean Operations", demanding that the hours of 12 midnight to 6:30 a.m., aircraft landing at LAX must approach from over the Pacific unless weather conditions or safe practice force an overland approach.

Westside


Still quite central, L.A.'s Westside is loud, but it has pockets of quieter areas.

Santa Monica, already a popular, boisterous tourist destination, is burdened by the Santa Monica Airport to the south. However, if you head a little away from the city, from about Wilshire Boulevard onwards, you'll find a little more serenity.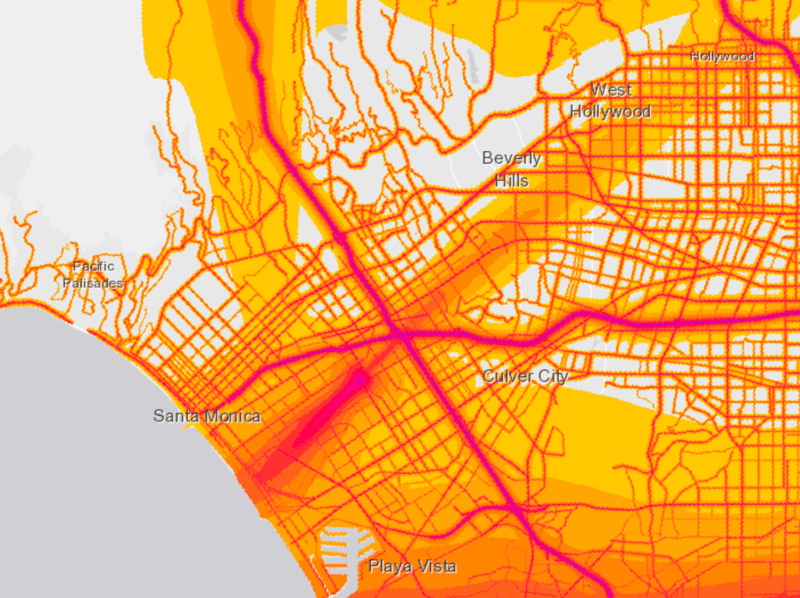 South Los Angeles


This is the big city life; little to no reprieve is available from the ruckus of street traffic, nightlife, LAX, and the general sonic byproducts of high population density.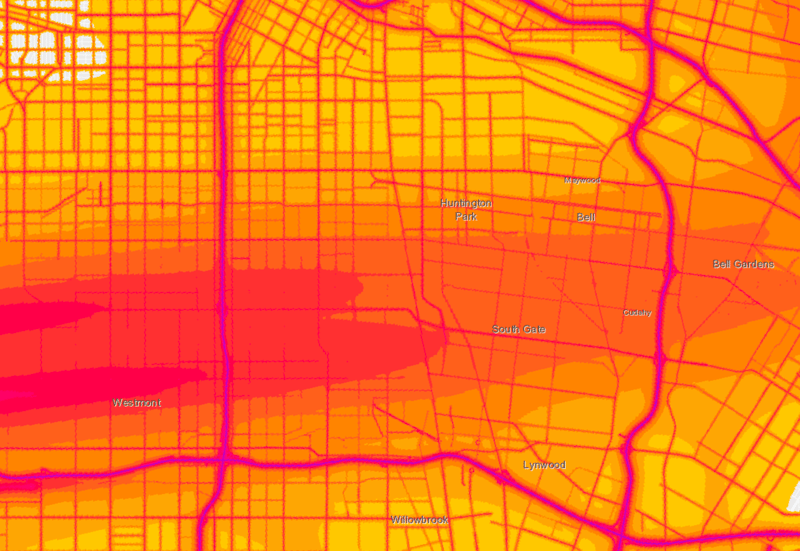 Long Beach Airport


The Long Beach Airport, although smaller, spreads its noise widely across the city due to the orientation of its runways. Overlay this with densely-gridded metropolitan roadways and commercial activity, and you get quite a racket. Head towards Orange County if you're looking for quieter communities, or over towards the South Bay area if you've got a few bucks to spare.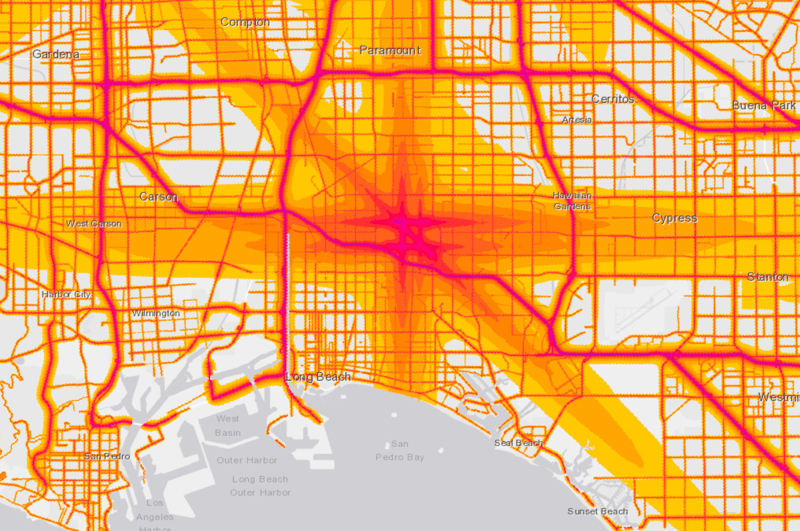 Orange County


The John Wayne Airport is to blame for most of the ruckus through Orange County, but aside from that and the interstate 5 and 405 freeways running through the region, it seems to be free from other forms of traffic noise. It's not central L.A., but for a little peace and quiet the compromise we make is urban proximity.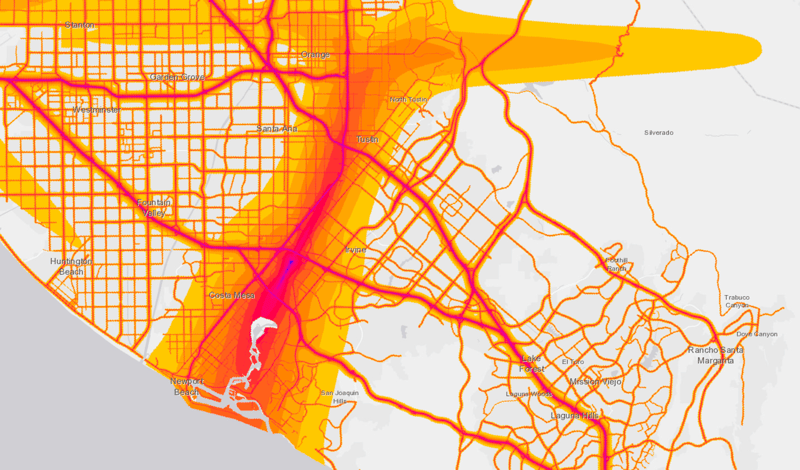 ---

Making a difference
Echo Barrier makes temporary acoustic barriers to screen noise on construction sites, for oil & gas, utility repairs, generators, mines, events, and more. We pride ourselves on spreading awareness on noise pollution and advocating change.