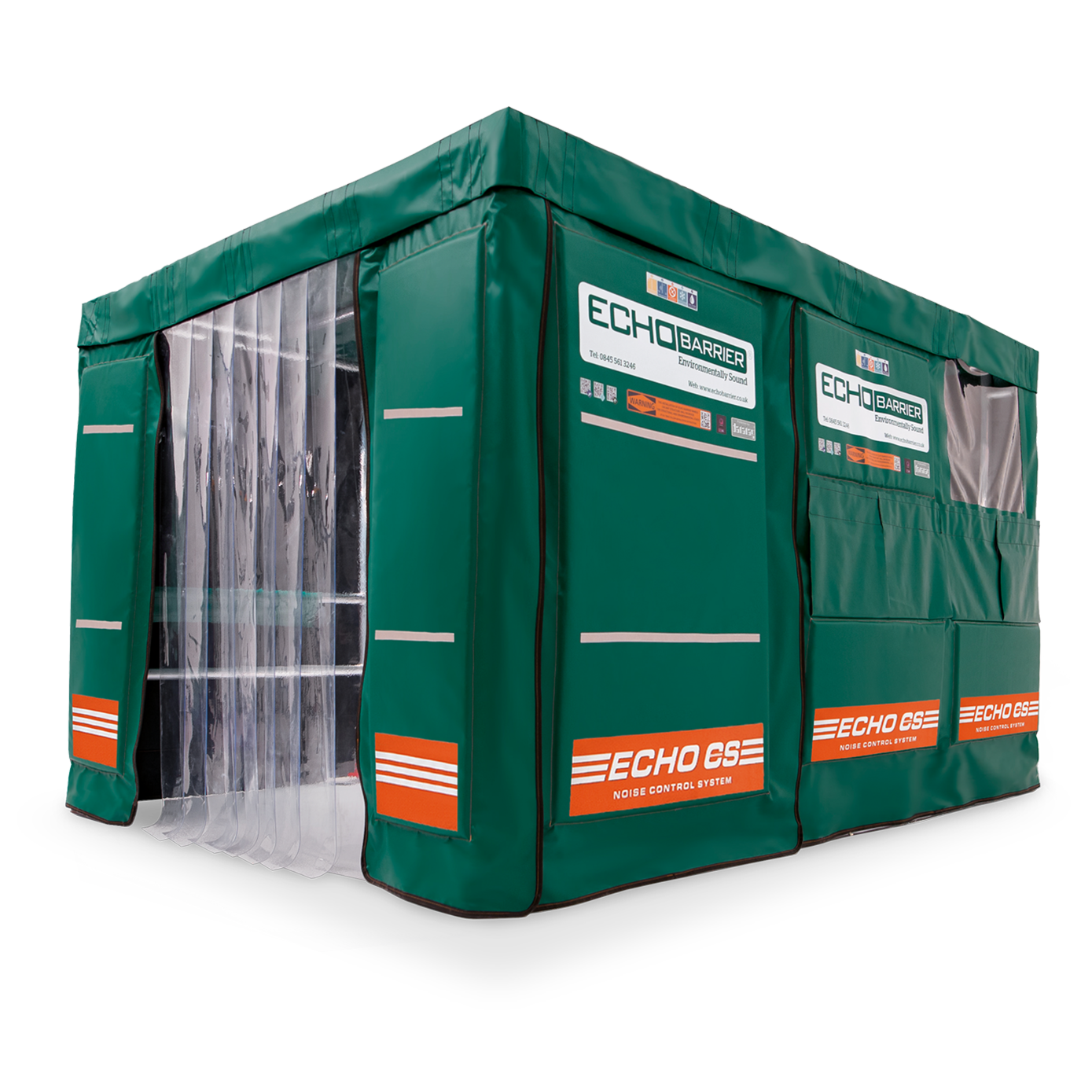 Construction sites are inherently noisy, but when many trade professionals are working simultaneously on indoor sites like apartment buildings, hotels, and large office buildings, decreasing the excessively loud noises that result from cutting, drilling, and sawing becomes especially important. Portable, noise-reducing cutting stations provide a perfect solution for protecting the crew and the public on indoor worksites.
The temporary enclosure allows loud cutting operations to take place safely right on the site without disrupting other workers or the public, while also preventing the spread of debris. In multi-story fitouts, rather than having to measure and then travel 20 flights to make necessary cuts, operators can build a convenient, temporary cutting station within 20 feet to improve efficiency and productivity.
Echo Barrier cutting stations are portable, quick-to-deploy acoustic enclosures that reduce the noise pollution that comes from cutting heavy materials like timber, metal, and piping. They also absorb noise within the enclosure to reduce operative exposure. The compact structures feature acoustic technology built around an interlocking aluminum frame. They fit comfortably in the work area and provide noise reduction from all four sides and overhead. They are also designed to allow ample visibility for supervisors and provide for the safe handling of oversized items.
There are many advantages to using a portable cutting station using Echo Barrier technology.
1. Reduce noise in harsh work environments.
Built with sophisticated, award-winning Echo Barrier technology, portable cutting stations can achieve up to a 43 dB noise reduction for the cutting of materials. They can even provide up to 100 percent noise absorption across some frequency ranges.
2. Echo Barrier's noise-reducing technology provides superior quality, durability, and performance.
Portable cutting stations are lightweight, waterproof, fireproof, UV-resistant, and temperature resistant—making them ideal for almost any work environment. In addition, they include an absorbent layer to reduce echo inside the structure.
3. Noise-reducing cutting stations are compact and suitable for work sites with low ceilings.
Cutting stations with noise-reducing technology make it safe to perform cutting and other similarly noisy jobs in crowded work areas without worrying about noise pollution that can often disrupt other workers. With a unique roof, they are ideal for indoor use—even in spaces with low ceilings. The noise-reducing technology on the roof of the structure cuts out additional sound that could be reflected off the ceiling.
4. Cutting station enclosures are easily assembled in a few minutes.
The wheel-mounted cutting station can be quickly deployed by two operators without any extra equipment. First, the aluminum frame is assembled. Then the rear noise absorbent panel can be attached. The acoustic panels are affixed to the frame using Velcro. The rear sealing panel, side panels, and front panels are then easily attached to the frame.
5. Cutting stations are portable enough to be accessible to workers and can easily move with the job.
As a workstation, acoustic enclosures provide a safe cutting environment close to work areas. Rather than wasting time and energy going up and down stairs to an outdoor or remote cutting area, the enclosures are compact enough to be located near the cutting activity.
The sound-reducing enclosure is lightweight and assembled on a wheeled-frame so it can move easily to various locations. It can be quickly disassembled in less than 20 minutes and then easily reassembled after relocating the worksite to a different floor.
6. Cutting stations are easily accessible for supervisors.
The front panel of the acoustic cutting station allows operator access through a transparent PVC curtain and transparent windows, through which activities can be monitored externally. This allows for safety supervision of cutting activities without having to deal with debris or hazardous chemicals, and while also shielding them from the loud noise.
7. Cutting stations feature accessibility for large materials.
There are side hatches that provide easy access for the passing of large materials, such as piping, to the operator. This allows the sawing, drilling, and cutting activities to be completely accessible and uninterrupted.
8. Cutting station enclosures provide a reduction in airborne dust and debris.
Even though the workers are protected with acoustic barriers on all four sides and overhead, the enclosures provide ventilation. There is an optional extraction system that can be installed to vent out airborne dust and debris.
Echo Barrier is committed to protecting workers and communities from noise pollution. Our portable acoustic barriers and acoustic enclosures are made using the most advanced acoustic technology and the highest quality materials.
The Echo Barrier CS Cutting Station is portable, quick-to-install, and designed to contain noise from cutting activities.
A more compact enclosure to contain noise from cutting activities in smaller work areas is also available.